Question Du Jour
How many batches of cookies and cakes will this $8 mixer make before I must make a midnight run to the store who shall not be named to buy an industrial strength mixer to finish up my Christmas baking?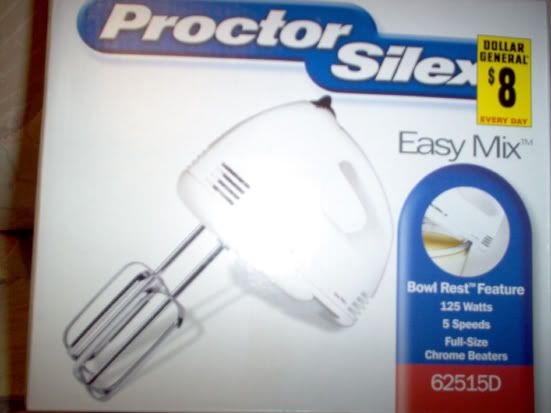 My hopes are high that this little mixer is up to the job, because I really, really,
REALLY,
can't spare whatever amount of dollars a better built mixer will set me back. The sad part, I have a pretty nice Cuisinart mixer, but it has lost one of it's beaters. That makes any kind of mixing a real contact sport. What makes mixing batter a contact sport you might ask? I tried using the whisk attachment along with the other beater, I ended up covered in flour, sugar, chocolate, of course this is my normal state when baking as I'm a power baker and no baking task is successful until there is as much flour and sugar on the floor and counter top as in the cake or cookies I'm attempting to mix.
May the Goddess of Baked Goods smile kindly on my home the next few days.
One the First Day of Christmas My True Love Sent to Me:
A barely started "And They Sinned" from the Examplar Dames. This piece was started sometime back in the spring and has been neglected for the rest of the year. Here's a toast to the biggest assed cross stitch piece of all time and hoping that I make some real progress on it in 2005.
I'd also like to give a shout out to my friend Siobhan for finishing this piece and getting it framed in a timely manner. I can only dream to kick this sampler's butt as beautifully as she did.