This weekend the DH had another project and because I am still trying to figure out the whole Photbucket blogging thing my pics are backwards. The top picture is of two freshly painted doors of a locker unit that was being thrown out. I told DH to grab them, and he couldn't understand what they could be good for and I told him storage in the garage and maybe the other unit we picked up can go in DS#2's room for storage. These are great lockers and I can put a padlock on the doors to store soapmaking supplies when I finally get around to trying my hand at that. You may notice the same colors on the doors that we used on our chairs. We had so much paint left over that instead of painting both locker units boring gray DH painted the back and sides gray and is doing the doors in the same bright colors we did our kitchen chairs in.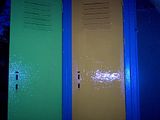 Below is the before pic of these lockers. I think they look fabulous now. You can see a bit of the fresh gray paint inbetween the locker doors in this picture. Dh asked me where I came up with the idea of using old metal lockers as storage or even in one the kids rooms and I had to be honest and say I found the idea in an old issue of Southern Living magazine. These particular units are three on top, three on bottom. Since they are half lockers it gives us lots of storage options.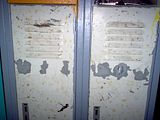 Do I keep the DH busy or what?
Unfortunately I have no interesting stitching or crochet news. Wish I had some fabulous progress to show of BOAF's Peace but it's mostly black blocks and some grass. I'm still hung up on round 7 of my flower crochet block. I'm think I'm just going to go on and crochet it the way I think it should be and see how wonky I manage to make it in the process. I think I'm making it lot more difficult than it is, then again maybe it's a sign that this afghan is going to be hideous when finished.