Booga Bag Update
Managed to take some pics of my BoogaBag today: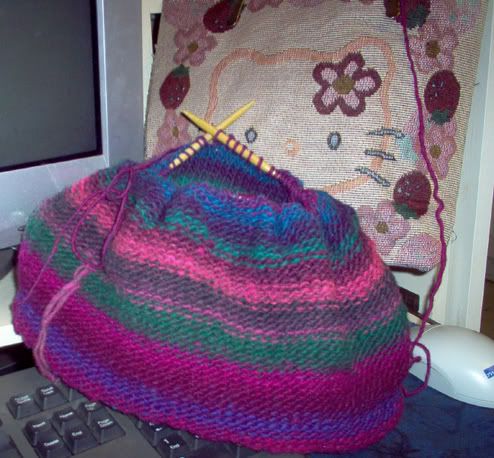 Here's a pic of the bottom: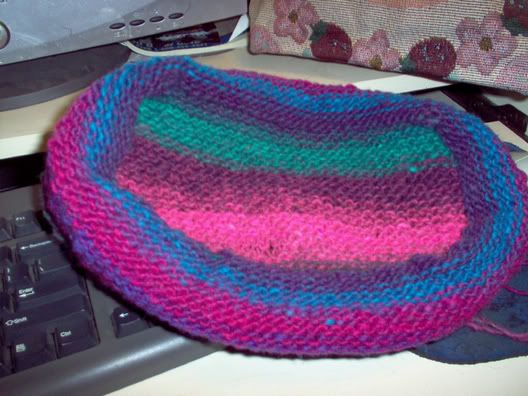 So far I've used about a skein and a half of the Kureyon. I am deeply in love with this wool.
Inspired
Blog reading has become very annoying to me. I find inspiration in all the blogs I read. Why is that annoying? Because I want to learn all these new techniques. I want to work with thread and make doilies or tablecloths, I want to crochet faster so I can make tons of scarves and shawls. The generousity of these amazing hookers, (or hmmm, hook artisans?) makes me feel so selfish. They create all these beautiful items and give them away to family members and friends. It takes me so long to finish anything that by the time it's finished I'm attached to it. I can't let it go out into the world where I don't know how it will be treated. I want to keep it all for myself to look at and fondle occaisionally. I can't stop reading the blogs because while they fill me with angst over my lack of finishing, they also inspire me to pick up the hook or needle or knitting needles and create. Since I'm more about the process than the finishing(finishing is just a really cool perk), the small aggravation I get from my lack of finishing is minor compared to all the ideas I get from fellow bloggers. What a gift the blogging world is to the solitary needleartist. Yeah, I know that's lame, but it's true. How many people live near others who share their interest in crochet, cross stitch and knitting? From my experience not too many. The blogging world has connected so many of us and created friendships all around the world. We've made friends who completely understand our wild obsession with needles and hooks of all kinds. While those near us look at us like we're these aliens from another galaxy when we go on and on about the latest Birds of a Feather fabric, the newest wool from Japan, glorious Turn of the Century crochet hooks, the blogging world has shown us that there are others out there like us, whose fingers ache to hold a hook, a hoop, needle and thread, and knitting needles whenever they have a free moment and love collecting beautiful hooks and needles and yarns and wool. We are not alone. What a great feeling!
Koolaid Dyeing
Today I think I'm going to breakdown and give Koolaid dyeing a whirl. I have to run to the grocery any way, might as well stop by the Koolaid isle and see what I can find in the way of lime colored Koolaid. DH is out of the house watching football with his friends, the kids are off in their rooms
fighting
doing their thing, so I might as well feel the fear and see what happens. I figure the worst case scenario is I manage to felt an entire skein of wool before I ever get to use it. I can read directions so it ought to be easy. I just need to keep the rinse water the same temperature as the dyeing water. Should be easy to do. Famous last words.
I saw that
Marlo's Crochet Corner
has a new Country Market Felted Bag pattern up for sale. It's a very nice bag so I'm planning to order the pattern soon. I love that style. I think felting can get addictive. I haven't felted anything yet but I sure am accumulating lots of patterns for felted bags.