On the Second Day of Christmas My True Love Sent to Me: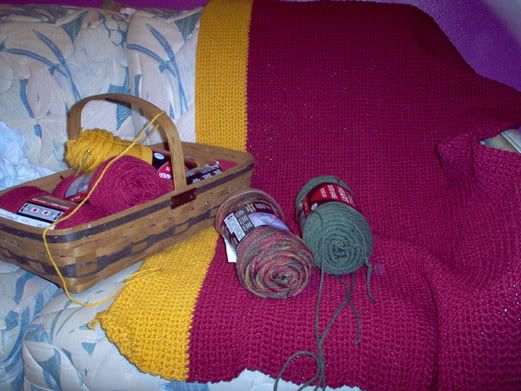 A shamefully neglected Ode to
Yarngirl
afghan. What is represented in the picture are two skeins of Red Heart's Ranch Red and about half a skein of Red Heart Gold single crocheted, and then on top of the afghan are the Red Heart Med. Thyme and Red Heart Farmland that I plan to incorporate into this afghan. The Farmland will be used as the edging on the afghan to pull together the Ranch Red, the Gold and Med. Thyme. Why is this afghan titled Ode to
Yarngirl
?
Because Julie was the inspiration. She used the Ranch Red and Farmland in a shawl and the colors were fabulous together. I always find inspiration in Julie's color choices and wish I had her confidence when selecting colors for projects. Checking out her blog,
Yarngirl
, always makes me want to pick up the hook and start working on a project. Thanks Julie for being a constant inspiration! Did I over use the word "inspiration" in this paragraph? Sorry but it's just the way I feel when reading Julie's blog,
INSPIRED!
Thanks!
To Andrea for the url for the Cuisineart parts! Never dawned on me to see if I could replace the missing beater.