Groovin' on a Monday Afternoon
Here's how I spent my Monday afternoon, remember it was a holiday, a time for celebration: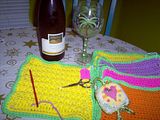 I Wear My Sunglasses at Night
Due to the fact these colors are BRIGHT!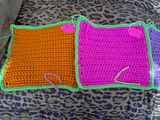 Above you will see blocks 1 and 2 of the 63 Squares Crochet Afghan. Block 1 is Single Crochet on the left, Block 2 HalfDouble Crochet to the right.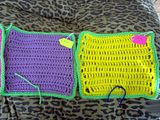 Above you will see Block 3 to the left, Double Crochet, Block 4 Treble Crochet on the right.
Block 5 is shown in the first pic at the top of the page, the one not in the pile to the right but all alone on the left. It's crocheted using a front loop-back loop half double crochet pattern.
So I did make some progress this weekend and I am now two blocks ahead of where I was 8 months ago using colors that didn't make me happy. Granted this afghan may not be what one would call classy when it's finished but it will be a joyful blend of wild & wacky colors that make me happy and who said class is all it's cracked up to be right? Sometimes tacky is fun.
On the Bedside Table
The Martini Diet is a current read thanks to
Stasia's Place Of Grace
. No it's not about living on Gin Martini's but it is about being good to yourself and realizing that you deserve the best life has to offer. On deck is French Women Don't Get Fat, also recommended by Stasia. If you aren't familiar with her blog check it out. It always inspires me.
I'm also reading Susan Wittig Albert's A Dilly of A Death.
Listening To
Sugarland-Twice the Speed of Life
Aqualung-Strange & Beautiful
GreenDay- American Idiot
Watching
Napoleon Dynamite
Law & Order Marathon on TNT
Wishing
I didn't have to work tomorrow