Mardi Gras Booty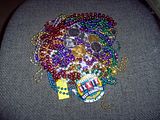 Want beads? Yeah we got your beads baby!
Mardi Gras on the Redneck Riviera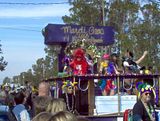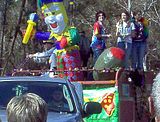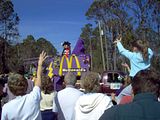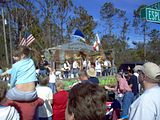 Normally our little Mardi Gras Parade is held on the beach but due to Hurricane Ivan and some commissioners who seem to believe that newspapers continuing to show up and take pictures of the damage does more for the community than say actually cleaning up the parks and the beach parking lot we couldn't have our parade with the gorgeous Gulf of Mexico as our back drop. We went the hillbilly route and had the parade along backroads. Somehow it lost something in the translation. In all honesty it was fun. The kids enjoyed it and that's what's important. Right?
Here's hoping the pics showed up as thumbnails. Somehow I'm betting they don't.
New Framed Cross Stitch Piece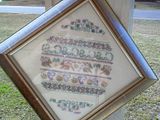 This is my framed Drawn Thread Easter Egg Sampler. I believe I finished it in 2001, but it might have been 2002. Excuse the poor photo. No matter where I put the picture it had that glare.
What Have We Here?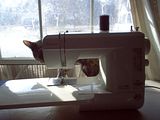 Could it be a completely threaded sewing machine? No way! Way!
What you don't see is a finished quilt. Why? You dear reader really aren't going to believe this, seriously, you are not going to believe it. I can't find my quilting pins. You know the ones with the big white ball on top that you use to pin the top to the sashings before you sew it together, you know to like stabilize it so one can sew in a straight line? I can't even find the flippin' pin cushion that's pretty full of pins. I can't believe it. So I give up. Tonight while the DH is at a Superbowl party I plan to cross stitch. The boys and I are going to hang out here, eat pizza, they'll either watch the Superbowl or something else. I'm planning on watching the pilot episode of Stargate SG-1 and the other two episodes on the DVD. I'm planning on stitching BOAF's Peace and maybe tomorrow I'll actually have a piece that looks like something so I can take a progress pic.