Finally A Finish or Two
This weekend I managed to finish this sampler from Sheepish Designs. It's Time Flies. I bought it several years ago when I went on a needlework retreat in Rochester, NY. It was my first trip alone after 16 yrs of marriage. I got to finally meet some longtime email loop friends face to face and it was one of the best weekends of my life.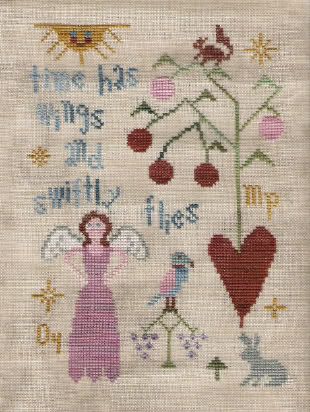 Here is a very poor scan of a fob I finished for a Friendship swap. I filled it with, hmmm, not doll pellets, but something a lady at JoAnn's recommended that is usually used for floral arranging. They are pearl like tiny square bead thingies. My finishing skills are still not as good as I'd like them to be but my excuse this time is that I've never sewed cording to something filled with beads. Kind of awkward to say the least. I have a pair of silverish embrodiery scissors to send with the fob. The design is a Lizzie Kate Freebie, Friendship Grows.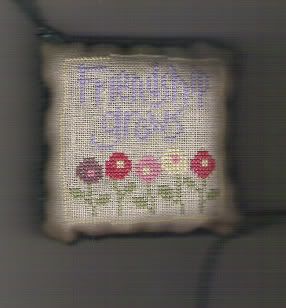 I spent two hours this morning trying to figure out what I'm doing wrong with the old blog. All my links are showing up at the bottom of the page. I've read my Visually HTML book a thousands times and it never mentions how to set things up with two permanent columns. I know it's got to be something so flippin' simple that I'm making it difficult, but for the time being the Links are at the bottom until I can get past this brain freeze. It might be the template I'm using, but I'll try to figure all this out another day.
Another thing I'm trying to figure out is how to add buttons to my links. I have a few saved to my Photobucket album but tried several times today to add them to the links and to also add the 63 Squares CAL button along with a few others. Another very simple thing that I'm making way too difficult.
Let's see, crochet progress, so far I have crocheted 44 squares for my Peyote Granny Square afghan. DS#1 thought the squares were coasters. DS#2 is just fascinated by the wild color choices and I can't seem to keep the kittens off the three pile of squares I have on the sewing stand.
I've also decided on the 63 Squares CAL, I need to redo Block #4, it's way too large. I need to get back into a routine for this afghan. I, for some silly reason, thought I might just get the 63 squares finished this year. What was I thinking? I rarely ever finish anything the year I start it. That's not a good thing is it?
Tomorrow I don't have to work and I plan to spend the day stitching, crocheting, maybe pulling out the old sewing maching and finally getting the borders on DS#3's quilt and a million other things. Not to mention start getting the house company ready. We have company coming in next weekend. I'm not prepared. Not one little bit. I don't want to clean and vaccuum. I want to stitch, I want to create, I want to veg out in front of the tv and watch chick flicks.