What's up with that? Well things are on my mind and I'm feeling restless, so I come here. It's a nice quiet place, no one whining for something at the moment although that is subject to change at any time.
Last year around this time I posted my progress on Stitchworld's Dragon Isle. Since I didn't put one stitch in on this project all year long I'm posting last year's pic. I wish I was kidding but I'm not. I refuse to set a goal, but I am hoping to finish this project sometime in 2006(this is not a goal but a guideline). DS#2 would be really, really happy if I did. He's been quite the patient kid for oh, 8 years. I'm pretty sure I started this sometime in 97 or 98. If you compare my stitched piece to the chart, there's only a couple of weeks worth of work left to be done, of course there's buttloads of backstitching, but what, you may be asking yourself, is my hold up? Finish the stupid dragon/castle already. The hold up is 1/4 stitches on 14ct aida! When I started this project, oh, so many years ago, I didn't think there were a lot of 1/4 stitches and I could deal with it. Well I was wrong. Way wrong! Would you believe that most of this piece was stitched in just a few months? Four at the most. It was a focus piece, then I get to the castle and the rocks and it's a nightmare. So I'm going to suck it up and work on this piece as much as I can. My reward for finishing it will be starting TW's Mermaid. Ever since I saw Kiwi Jo's finished Mermaid I've been itching to start this piece. So all I have to do to start TW's Mermaid is finish up the minimal amount of cross stitching left on Dragon Isle. It really is pretty. The colors are great, the dragon is beyond cool.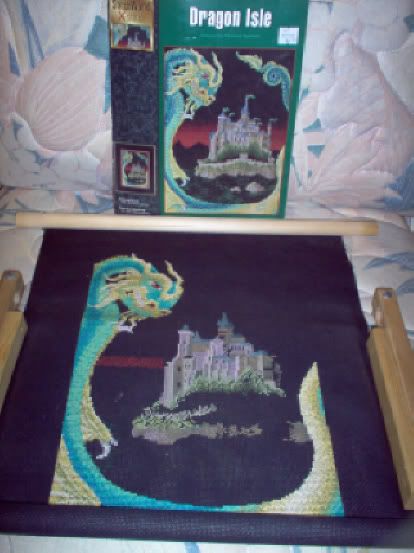 After going through last December's archives I have discovered that only one project from that end of year list was completed. It was my gemstone and black single crochet Q hook afghan. To top it off that was just finished last week or maybe the week before. Visualize me holding a big old L in front of my face using my thumb and forefinger.
I'm a fabulous project starter. How I love choosing a chart, buying the fabric, gathering the threads! What a rush! What joy there is in finding the top left corner or the center point of the design, threading the needle, pushing it through that first hole. Those early hours of continuous stitching so that I can see some actual progress after my first stitching session, WOW! I'm one of those geeks that loves to wake up at 4a.m., brew a pot of coffee, and start stitching. That is the best time of day.
The subject of starting new projects brings me to Guilt Free January. Boy do I love January, Guilt free and all. I have some ideas about what projects I'll start in January, Scarlet Letter's Sarah Tatum and The Ann Medd 1742 Reproduction Sampler are at the top of my list. I also have another big project planned and if my charts and supplies are here on time it will be my New Year's Day project. I'll share the project and my plans later.