Below is Brittercup's Britty's Christmas Kitty from the 2005 JCS Ornament issue. This will be DS#3's ornament this year.


And here is Houses of Hawk Run Hollow House #9. Whew! I never thought I'd finish this house. Each house is like it's own project. A lot more work intensive than I ever expect them to be. I'm not thrilled with the coverage of the DMC 310 using one strand of floss but I tried using two strands and it just looked too bulky. Only 9 more blocks left to stitch. My secret goal had been to finish this project before the end of the year but I'm reasonably sure, well 100% sure that ain't going to happen. Next up, finally, the cow house block.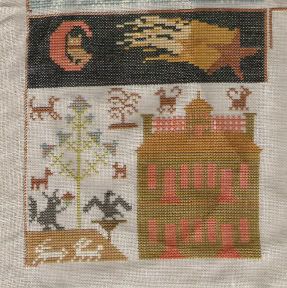 I only have one more ornament that I have to stitch for a swap and then any other ornaments are just bonus ornaments for the year. Since I'm 17 yrs behind stitching my oldest son an ornament for every Christmas, and very close to 15 yrs behind stitching middle son an ornament to represent every Christmas of his life, and only, well now, 9 years behind on youngest son, I have plenty to keep me busy. My goal is for each of the boys to have a box of mom's handmade ornaments to take with them when they eventually leave home and start homes of their own.
Yesterday I pulled out the bread machine and baked some chocolate chip bread. I don't know what happened, maybe I removed it from the pan too soon but as soon as it cooled it deflated like a balloon. I thought maybe the chocolate chips made it too heavy, or maybe it wasn't completely cooked all the way through. I can't find my bread machine cookbook to check my troubleshooting so this doesn't happen again.
The baking fun has slowed down but it sure was good to have some home made enchiladas Monday night and crunchy taco shells. Amazing how happy the little things can make you sometimes. I have learned over the years to never take the washer, dryer and dishwasher for granted, now it's time to appreciate the oven just a little more.