Below is a picture of my framed Carriage House Samplings' Mairmaid's Song. Sorry I'm not a great photographer, this is the best I could do this afternoon.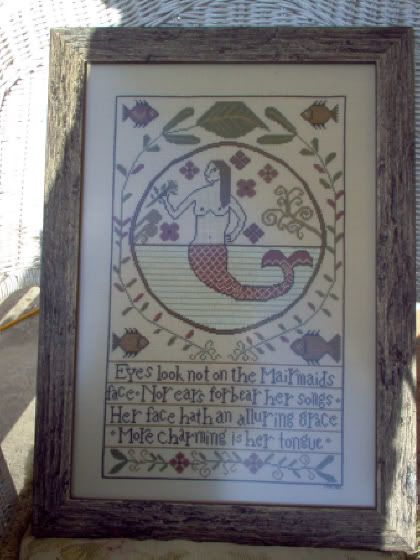 This is pretty close to being one of my all time favorite designs that I've stitched over the years.
I tried to take a picture of my recently framed Stitching Witch but the picture I took was a mess and my camera battery was dangerously low so I'll put in some new batteries and give it a try in the morning light tomorrow.
The last few days I've been going through my WIPs, UFOs, and charts for projects I want to start in 2006. I didn't finish anything I had intended to this year. I don't like to stitch with a goal in mind, I never follow through. It seems like when I set the goal, the project loses it's magic. So one plan for 2006 is to not really plan to finish anything, I just hope, HOPE to get a few longtime projects out of my house and into their new homes.