In this post and previous ones you can see pictures of the things I managed to finish in 2005. I have no hope of finishing anything else before the end of the year. Not a very productive year but maybe that shows that I do have a life away from needle and thread. The picture below is Lizzie Kate's Welcome All Seasons. I have the frame purchased and maybe the DH can frame it for me this weekend. He gets things a lot straighter in the frame than I do. This particular framing project will be a little different though as he needs to add some brass cup hooks to the bottom of this frame and some brass eyebolts to the smaller frame I plan to hang from the bottom of this design. I will change out the month in the bottom frame using Lizzie Kate's Monthly Flip-It designs. I plan to just mount the monthly designs on *gasp* sticky board and pop them in and out of the frame as each month arrives. I'm also hoping to keep them organized in a nice little plastic shoe box so I'll know where each month is when I need it.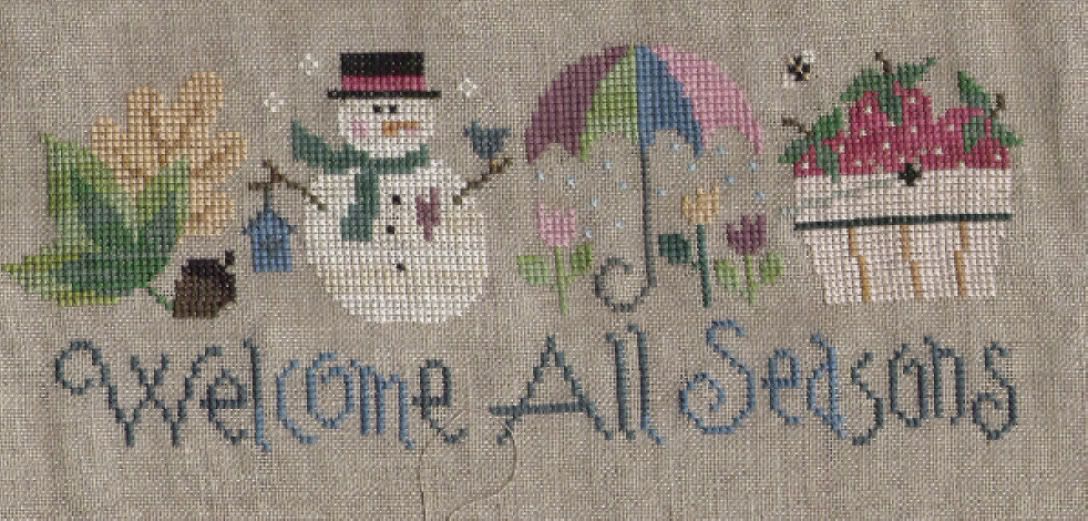 Things That Remind Me of What A Loser I Am:
Reading through the 2005 archives I had such high hopes in all my crafty endeavors. I had hoped to be able to knit socks for family members, crochet a baby blanket for a new niece, cross stitch a picture for a great niece, do something special for another niece I adore but never get to see, finish Fairy Grandmother for my grandmother who will now probably be going into a nursing home, finish Mermaid of the Pearls for another niece, finish the very easy and what I assumed was a quick afghan for my mom's Christmas/housewarming present. All in all I suck. Maybe it's great expectations, maybe it's poor time management. My heart is in the right place but nothing ever seems to work out the way I plan. Can I flake out and say I'm an artist and things will get finished when they get finished? No that's a selfish excuse. In my heart I'm not selfish, just bad with the whole timing thing.
My hopes for 2006 are that I finish some long overdue projects and that one will not be too late. That is where I am selfish. The project for my grandmother, I started getting all superstitious about it. If I finished it, she might die. Weird, flakey, I know, but I started to not be able to even look at it much less work on it. I'm an idiot. So the rest of 2005 will be spent working on this for my grandmother. She's so deserving of it. She gave me everything when I was younger. Comfort, love, a sense of place. There is so much emotion and love tied up in the cross stitch piece, that it breaks my heart to work on it and think of her and all my shortcomings and how she always deserved so much better in a granddaughter. I know that I always fell short of her dreams for me. Always a constant let down. I only hope that she knows, truly knows how much I love her and what she means to me. I only wish I had taken the time to be more of the person she hoped I'd be.