Could it be a new stitching hutch? Why yes it is. This has been stored in the garage because the DH said it was for TVs so what else could I possibly use it for? Sorry the top pic is so dark, not sure what happened but you get the idea. It's a medium oak stained tv armoire.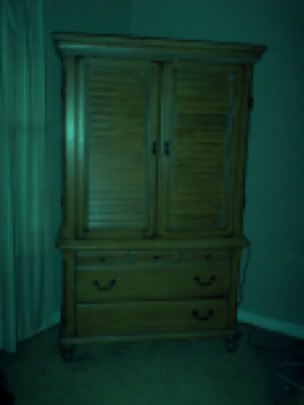 Which I turned into this. Can you believe the top pic and this pic were taken just a minute or two apart? My camera has been dropped several times and it's sorta got a mind of it's own these days.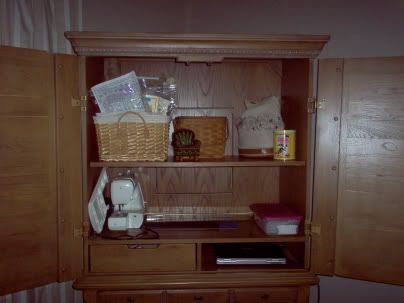 Wow! Scissors and pins where I can find them. How long will this last?


Here's a stitching update, this is Carriage House Samplings Sirens of the Sea. I started it last Sunday and have been moving right along.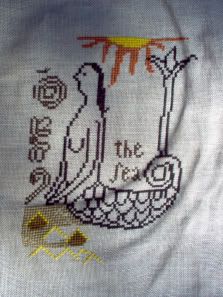 Hmmmm, is this really the beginnings of a new crochet project? Sure is. My mom is moving into a new house and I'm making her this afghan:
Free Crochet Pattern: HOMESPUN Five-Panel Throw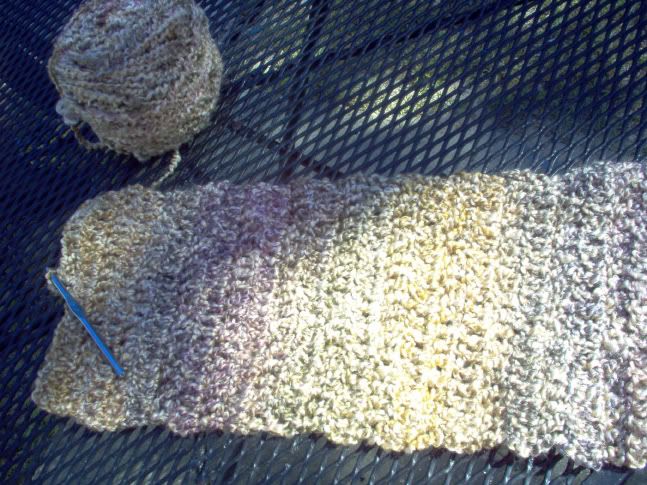 I'm using the colors suggested in the pattern. What you see above is the first panel in Lionbrand Homespun Sierra(color distorted by sun and shade, sorry). I'm having trouble finding the other colors, but I have yet to make the day trip to a Micheals or Hobby Lobby. JoAnn's didn't have any of the colors I needed. What I'm using I rounded up at the local store that shall not be named.
The ball of Homespun was created using my new ball winder. What a cool gadget. Pricey but cool. It's a lot more fun winding balls using the handy dandy ball winder than it ever was using a toilet paper roll with a slit cut in the side.
Thanks Anna for your kind words regarding the birthday and age. Happy Belated Birthday to you.
I've really enjoyed my first week of unemployment. The laundry is almost all off the kitchen table and with any luck I'll have my oven repaired by Wednesday. There are rumors that the owner may reopen on Friday, but she has yet to call me or one of the other regular employees. So I have no clue what's up and I'm perfectly happy not going back. Don't get me wrong, the money I brought into the home will be missed, especially by me but I feel a lot better than I've felt in ages. I so needed this down time. Just wish I was using it a little more productively. I'm still procrastinating about getting things done but my excuse is I needed the rest. What ever works right?