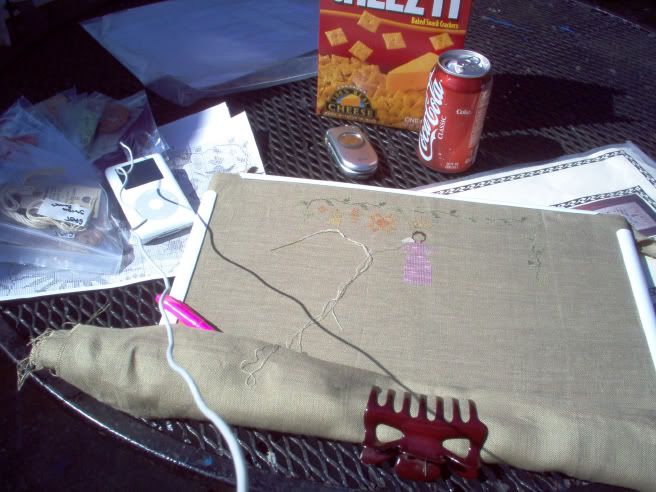 I decided I needed to get a little bit of discipline where my stitching is concerned so Sunday afternoon I pulled out And They Sinned and was determined to put in one length of floss on the piece. As you can see it was a beautiful afternoon and the natural sunlight really helps me to see the holes in the 36ct dirty linen. Until I get a few things finished I'm going to try to put in one length of floss on this piece every week. Once I have more free time, I'll devote more time to this sampler. At one length of floss a week I should finish this four foot+ sampler sometime around 2085. Yes, I could have sat outside a little longer than the time it took to stitch one length of floss but I started getting bit by mean little yellow flies. The cooler weather is nice but the north winds seem to wake up this mean little creatures.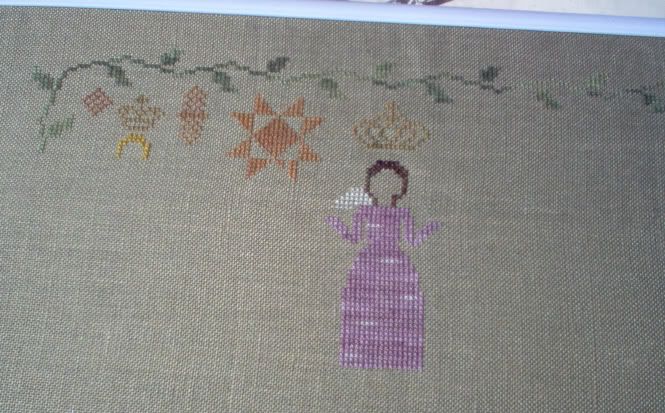 The picture above with the exception of the four light rows near her face is where my progress on ATS was when I picked this back up.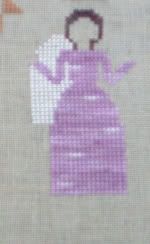 This picture shows what one length of floss looks like. That would be part of her wing to the left of her face and midskirt. I've got a long, long way to go on this piece.
I stitched a little on BOAF's Remember Me on Halloween but didn't take a picture.
I pulled out all my Halloween blocks and tried to find all my buttons to create the crazy eyes on a few pieces and only had enough for three pairs of eyes. I need to make a trip to JoAnn's to pick up a few more packages of the buttons so I can get these pieces ready to put in my quilt. The quilt will be my focus this coming weekend. I've been wanting to get this finished for about two years now and just keep putting it off because I hate sewing. I don't mind handsewing, I piece all my quilt blocks by hand but I loathe the sewing machine. One day she and I will be best friends but right now she is my archenemy.
Yesterday I made a quick trip to one of my LNS to put my Mairmaid's Song in for framing. I chose a simple, primitive type frame with a dark stain. Sorta of like driftwood but not yet bleached by the sun. I also dropped off my Stitching Witch to be framed. She'll hang all year in my bedroom. A picture of her can be seen in my Webshots album at this link:
I finished her back in 2001 and had planned to make her into a wallhanging, but when I found her tucked away with all my Halloween stuff I determined that I would never ever make her into a wall hanging so I dropped her off to be framed and I'll hang her in my bedroom all year long.
Yesterday morning I pulled out Goode Huswife's With My Needle and put my first stitches in that piece. Yes, starting one more project. I keep hoarding up all these projects, saving them for some reason. I want to stitch this, it doesn't look like I'm going to be unemployed any time in the near future-that's why I kit things up 99% of the time. I'm afraid I'll lose my extra income and have all this glorious free time on my hands and nothing to stitch. Yes, it's a sick and twisted way for me to look at stashing but I know that when money is short my stitching fix is the first thing kicked off the budget. I don't mind being broke, but I can't stand being bored. So I'm an obsessive stasher and project kitter(is that a word?) upper. I have several TW projects I'm slowly kitting up, Mermaid, The Fortunate Traveller, Tropical Dream and Castles by the Sea. Tradewinds and Fantasy Triptyche are already started. I think Tradewinds might be my focus project for 2006.
Thanks to Kiwi Jo for her kind words regarding my Mairmaid's Song.