Foolin'
Around with color.
Here are some very lame pics of the granny hexagons I've been playing around with as a border for my Ode to
Yarngirl
afghan. For some reason I couldn't get my scanner to work so I took this pic on the front porch and of course the sun was behind me but the flash kept going off in the shade of the backyard so this is a glimpse of what I've been doing: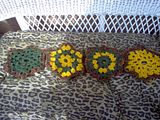 Here's a pic of the blocks against the SC Ranch Red afghan, another feeble attempt at photography: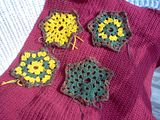 I will try to take better pics later in the week.
I'm not exactly happy with the yellow. I think it's a little too bright for the softness of the Ranch Red and Farmland. I may see what I can find in the way of a brown.
So I'm trying to decide if I like the solid hexagons better than the striped hexagons. I really love the Med. Thyme hex. It works well with the Farmland I'm using as the final round in each hex. But if I make all the hexagons Med. Thyme that could be just a wee bit boring. The yellow though just sorta takes over, no subtlety there at all. So the mission this weekend is to find a nice brown, not a boring brown(is there such a thing as a nonboring brown?) but something that doesn't overwhelm the Farmland, Ranch Red and Med. Thyme. I do like the hexagons better than squares. I think they'll add interest and soften the edges of the SC afghan. I'll finish it off with a SC edging all the way around in Farmland. That's why I'm opting to make the last round of each hex Farmland.
Not one stitch has been crossed in what seems like weeks. I'm uninspired at the moment. Not sure what it is. I've been going through some boxes and sorting charts and while there are a few new projects I want to kit up and start, I am overwhelmed with all the projects I have started in the past. I still love all of them and want to work on them too. It seems they are all begging for my attention for one reason or another, I feel guilty picking up anything but Fairy Grandmother so I avoid the needle altogether. I need to suck it up and finish the Hag and once she is out of the house it will be so liberating. I can only imagine how many projects I will start the day she is out of my hair.