Busy, Busy, Busy
That's how my summer is going. I don't like it. I'm more intouch with lazy days than busy days.
Weekend Wrap-Up
DS#3's basketball team won their first basketball game 30-10.
DS#2's team lost their first game and I can't remember the final score because I had to leave in the middle of the game to go to work. The DH told me but those numbers just flew right by me.
DS#2 did manage to score two buckets and snag a couple of rebounds.
Was able to make the one day sale at Books-A-Million and scooped up Harry Potter Goblet of Fire and Order of the Phoenix for DS#3 in paperback and for myself,
Gods in Alabama
by Joshilyn Jackson,
The History of Love: A Novel
by Nicole Krauss, and
The Mermaid Chair: A Novel
by Sue Monk Kidd. All of these were at least 40% off, almost as cheap as paperbacks!
Met the SILs for an early breakfast at a local diner. They had been down here for a week, staying not too far from where the girl was attacked by a shark in Destin this weekend. They were staying too far from us for us to be able to spend any time with them this week in between workand basketball practices so the Saturday morning breakfast was the only time we had to visit. They were on their way home to Tennessee.
Had to work Saturday night but the positive side of that was that I had a front row seat for the local fireworks show. DH and DS#3 came up to watch the fireworks while I closed. After the two kids who cooked Saturday night finished up their work I told them to go on home so I could finish up my stuff. I was there until 11pm but I didn't have to work yesterday and I've decided I'm not closing any more. I hate it. I'll work for someone if they need the night off of course but I'll never ever volunteer.
On Sunday morning the DH and I headed out to breakfast early since we both skipped dinner the night before. We tried a new place, Happy Donut Breakfast, it just opened Saturday morning and we had to miss it because of the SILs so we had to go on Sunday. Who can't stop by a place called the Happy Donut Breakfast? The breakfast was good and cheap. I had a ham and cheese omlette with hashbrowns, grits and toast for $3.99, DH had French toast with bacon for either $2.99 or $3.99 I'm thinking it was $2.99 because their prices were just so good I couldn't believe it. Donuts are $4.30 a dozen and $4.90 for assorted.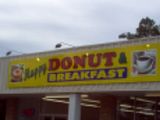 Came home from breakfast, turned on the desktop and it wouldn't boot up. Apparently DS#1 downloaded a nasty virus, didn't bother to tell anyone, tried to pin it on DS#2 who said he tried to turn on the computer when DS#1 shut it down and couldn't get it to turn on(the first tip off it was DS#1 who caused the problem was the fact the computer had been shut down. He never does that, thus begins the cover-up). Then DS#1 conveniently remembered that he might have downloaded something and the computer started acting "weird". My kids aren't supposed to download anything on this computer, ever. But DS#1 thinks I'm clueless and no one "really" gets viruses. Freakin' Idiot! I love the child but he's at that age, 17, where he knows everything and I know absoultely nothing.
The other day this little guy was trying to get into the back door of my house.

No, not kidding. He's about 4 inches from the french doors. DH started out the door and stepped over him, the snake scooted over to the grass as the cat was pissing him off.
Here's a pic of him contained in a toy bucket: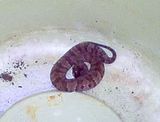 I'm thinking about cross stitching a sign for the back door, "No Rattlesnakes Allowed", probably wouldn't keep them away.