Well I'm feeling the joy right now. I've completed the stitching on my second ornament of the long weekend. It's Quaker Christmas Tree by The Workbasket from the 2002 JCS Ornament issue. It's stitched on 32ct Raw or some kind of neutral linen and I stitched the design using Needle Necessities #133 British Green. I do feel as though I stitched it twice because I had to frog all of the right side of the ornament because of a miscount that went unnoticed until the banner along the bottom was 99% completed. That's what happens when one gets up at 4:00am and starts stitching before the coffee is brewed and consumed.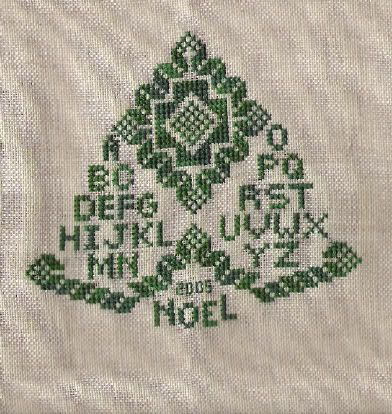 For more Christmas stitching check out Kiwi Jo's completed advent calender. It's the first advent calender pattern I've seen that I have to stitch. I'm hoping to track down the pattern and stitch one for myself by Christmas time next year.
I tried coffee dyeing some fabric today, it was not a good thing. It turned out a little more yellow than I anticipated. Probably should have dyed white fabric instead of ivory, hence the yellowish result. It also smells very strongly of Hills Brother's Original Blend Medium Roast Coffee. I've washed it twice and the odor is still there, now it just smells of soapy coffee.
Here's hoping I can keep up my momentum and get another stitched tomorrow. I'm not counting on it but I do dream big.