Below is a pic of my finished Sirens of the Sea by Carriage House Samplings. When I first started stitching it the browns kind of depressed me. I couldn't imagine it being as pretty a piece as I thought it was, well I was wrong. The pic doesn't do it justice. I'll frame this one myself. It'll fit in an 8x10 frame so now I get to go in search of the perfect frame for it.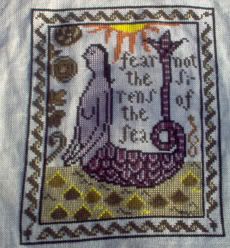 Here is a picture of House #5 on Carriage House Samplings Houses of Hawk Run Hollow. These houses are so misleading. I think I can crank out a block in a day or two and each of the two I have stitched has taken at least a week each. I started House #9 last night while watching Disc 2 of Season 1 of The O.C.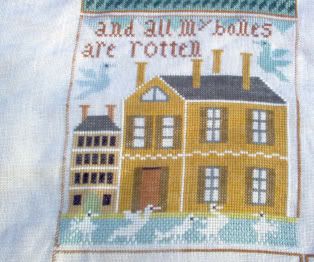 You may notice the border around the house isn't quite finished. Well I'm not considering that part of the block. I'm saving the border stitching for a time when I don't want to count and just want to make little Xs. Last night I started the border around House #9 and #10. I would really love to get HOHRH finished this year and I do like to think it's a reasonable goal but I'll see how the stitching goes. I'm interested to see how much progress I can make on #9 today. That should be a good guide as to how much I can reasonably stitch on a block per day.