Here is my most recent ornament finish: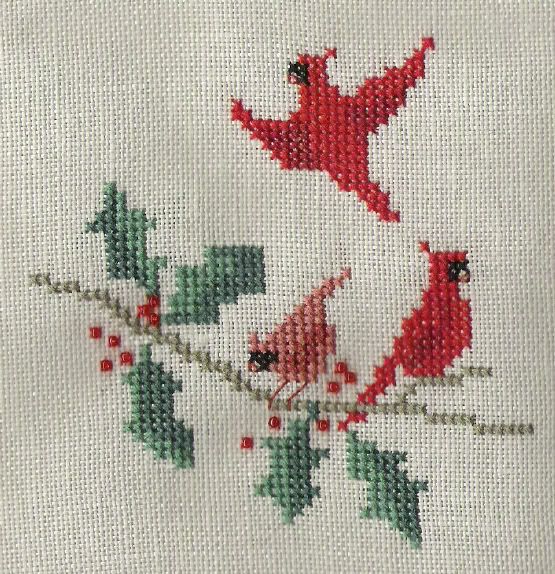 It's Cardinal's Christmas by Lynn's Prints from the 2000 JCS Ornament issue. It's stitched on 28ct Platinum linen using DMC thread and Mill Hill beads. I finished this about 5 seconds ago. It should have been finished yesterday but I started reading The Seventh Scroll by Wilbur Smith and couldn't put it down. Not sure what ornament is up next in the queue.
Random Fact:
If one drops a brand new gallon of milk in a plastic jug just the exact right way, the aforementioned plastic jug will split right down the middle. Milk goes everywhere, don't ask me how I know this, but let's just say my cats are quite content right now.
You know you've married the right person when:
You and the boy are watching the last episode on disc seven of season one of The O.C. and he's crying just like you as Seth sails off. We're currently planning to sell some plasma so we can buy season two. We're pretty worried about Seth. Our only comfort at this tragedy is that we have had a glimpse at the current season and Seth seems to be alive and well.
Quick Book Review:
MonkeeWrench by P.J. Tracy-Great thriller, likeable characters, some nice twists and turns to the plot.
Storm Front by Jim Butcher-Not bad, I figured it out early on but that's ok. I'll give book two in the Harry Dresden series a go.
Currently reading-The Seventh Scroll by Wilbur Smith-it's holding my interest but he keeps mentioning himself and a previous book as part of the plot. It's a little disconcerting, but the story is good.
Also reading Wicked-The Life and Times of the Wicked Witch of the West by Gregory Maguire. I've read mixed reviews of this book and am having trouble getting into it but I'm a bit distracted these days. I plan to give it another try in a week or two.
Here's a link to a new family favorite recipe. I've made it twice and one of the neighbor kids says it's the best cake he's ever had. Go Him!