Ok, for some reason this pic blurred big time. But we'll just go with it for the time being and I'll take another when the sun comes up. Guess I had the camera just a little too close. It wasn't blurry in my editing software. Maybe I reduced it too much?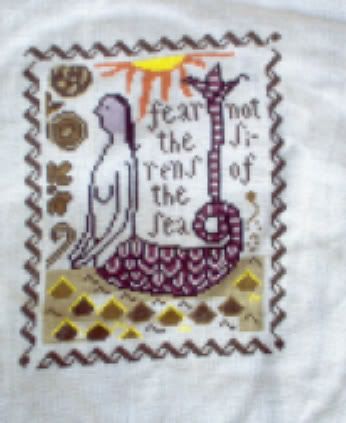 I'm delusional where my stitching is concerned. I truly thought when I started this piece it'd only take a couple of days to complete. The joke was on me. It's taking forever. When I first pulled the colors and started stitching I wasn't very happy, thought it was going to be kind of drab, but of course I should always, always trust the designer. At least when the designer is Kathy Barrick-Dieter of Carriage House Samplings. She has yet to let me down in the design department. The colors all started coming together and I'm loving it.
Yesterday afternoon I put in two lengths of floss on Mouline Rouge. I'm much happier since I pulled it out of my 11x17 Qsnaps and popped it into a nice, light, easy to handle wooden hoop. It's much easier to see the holes in the 40ct lambswool now that I have MR in a much more manageable frame. As soon as I finish Sirens of the Sea I plan to work on MR a little more often. It's going to be a lot more enjoyable to work on now.
Also, my Houses of Hawk Run Hollow has been screaming at me to pull it out of it's plastic baggie and finish House #5. It's so close to finished, at least block #5 not the whole piece.
So end of year goals are as follows:
1) Finish Page 1 of Mouline Rouge
2) Finish Page 1 of And They Sinned
3) Start and finish several ornaments
Other than that I'm just going to fly by the seat of my pants.