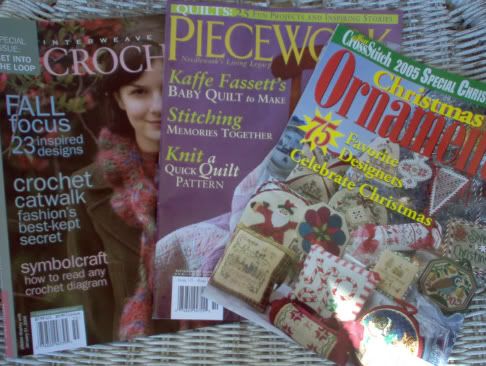 Yes, a weekend full of crafty daydreaming is in the works for moi. To the left is the new Interweave Knits Crochet Special Issue, the new issue of Piecework is pictured in the middle and to the right, ahhh, the much anticipated 2005 JCS Ornament issue.
Now to find the time to flip through the pages and let the daydreams begin.
In other crafty news I have put the first stitches into Long Dog Samplers Mouline Rouge.
European Cross Stitch - Long Dog -If you scroll to the bottom of the page it's the design on the right.
This is my first attempt at stitching on 40ct linen. I'm using one strand of DMC 498 on 40ct Lambswool linen. I can't decide if I like it or not. The holes are easier to see than I thought they would be but I can only work on it for small blocks of time or I start to get a headache. Once there's more to show I'll take a progress pic. I don't care for the 11x17 Qsnaps I'm using. They are kind of bulky and awkward to work around. I guess it will take some getting used to.
With all my recent stitching my carpal tunnel is acting up and my right hand and fingers keep going to sleep on me. ARRGGGHHHH!