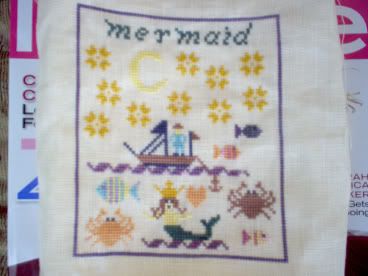 The piece above is an Olde Willow Freebie-Mermaid 2002 I believe is the name. I started it a year or two years ago, set it aside, found it in a drawer and couldn't remember why I hadn't finished it. Then I found a mistake in the crab in the bottom left corner, frogged it and finished up what little stitching I had left to do. Since Olde Willow Threads weren't available in my area at the time I started stitching this piece, I converted the Olde Willow Threads to Anchor, then converted the Anchor threads to DMC and then I pulled out my trusty DMC color card and converted the DMC to Six Strand Sweets. The water was stitched with a blend of three DMC colors and right now I can't remember what they were. I changed the design up a little. On either side of the word *mermaid* there's supposed to be a stitched a heart. I didn't really get that so I left it off and may add a small seashell to either side of the word. There's also supposed to be a heart next to the two fish swimming above the water in the center right, I didn't really get that either so I left it out of the piece. I looked around for a small fish button to place there but I don't know I might leave it as it is. This weekend I should have picked up a frame for it and forgot so I'll try to get it framed next weekend.
Sure felt good to finish something for a change. The rest of the weekend I've spent working on Mairmaid's Song and will take a progress pic tomorrow. I want to get as much as possible done on it before taking another picture. There's nothing better than stitching and watching four back to back episodes of Poirot on the Biography Channel, especially if the DH is off watching football with his friends.I enjoy quiet Sundays.
Other than these two projects I've mainly been planning future projects, quilting, crochet and cross stitch. I popped into JoAnn's to pick up some DMC for Carriage House Samplings Haunting Mermaid and determined that maybe before sticking the flyer in my purse I might ought to read it. They had huge sale going on and I picked up Scarf Style : Innovative to Traditional, 31 Inspirational S . Some wonderful projects, knitting and crochet, in there. I was able to scoop up the book using a 50% off coupon. That ROCKS!
Also picked up three fat 1/4s in green so that DS#1 could give me a clue about what shade of green he preferred for his quilt. Of course he chose the batik green. I'll try to get an accurate representation of the colors tomorrow. Couldn't get anywhere close today. At least now I have an idea what color he likes best. Now to figure out what other colors to add to it.