Sweet Monday Morning
This morning my neighbor, who is terribly amused at my "crazy cat lady" persona stopped by while waiting on the school bus and gifted me with this: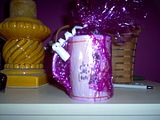 Inside the purple saran wrap was this:
The wording on the mug reads:
"People who don't like cats must have been mice in a previous life"
It was filled with Hershey's kisses and Special Dark mini bars. What a sweet start to usually icky Monday.
Yes, I do need to learn how to take better pics.
I picked this up from the framer's on Saturday: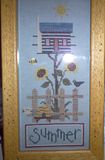 It's Lizzie Kate's Summer. I stitched this ages ago. Probably the summer of 2000 or 2001. I stitched it on a fabric remnant I had tucked away and used a mix of DMC and GAST. I don't know that I'm 100% happy with the frame choice but DH thought it looked good so I'm going to quit second guessing myself.
Speaking of Cats
Tomorrow I take Miss Sabrina to the vets to get fixed. No more kittens in this house. I can't give them up. No more animals can give birth under my roof. So the next few months the stash money will be spent on the fixing of several cats. Sabrina this month, Hermoine next month, then new momma Holly. Then I have to focus on the kittens.
Work Decisions
Today the girls I work with were discussing the summer schedule. I'm seriously thinking about working evenings this summer. That would give me most of the day with the boys, we close at 8:00 during the summer, maybe 9:00 pm. I can't remember at the moment, but I think I might spend more productive time with them if I have them to myself during the day, and then going in at 3:00pm. We could go to the beach every morning before it gets unbearably hot. I missed a lot of time with them last summer, so I don't know, I may just have to mix up my hours a bit and see how it goes. The girls are flexible and want all the hours I can give them which right now I'm happy to do. I know I may regret it but since I started working the DH and I don't budget like we used to and it seems like we have even less money. So over the next few weeks I'm setting up a budget, seeing how much of my money I can actually hold on to, and live like we did before we had my few extra $$$ coming in. I want to save for my own laptop and if I could hold on to all my paychecks for the next couple of months I'd easily have enough money to purchase one.
I also miss creative writing. I never seem to have time for short stories any more much less a novel. Of course I'm the Queen of Imcomplete Thoughts so it's not like I actually managed to write a novel when I was a SAHM so now why I am so driven to write, to complete the elusive novel.
Another reason to cut back on some hours in the summer, my house is a disaster. No, I'm not just saying that. It's a mess. I need a week off just to devote to cleaning and stitching. Have to have a little stitching time, that whole all housework and no play thing.
New Dryer
How do I love thee? I love thee like I never dreamed I could love an appliance. The dishwasher is still #1 but baby you totally rock my world! Who knew a large load of clothes, denim no less, could dry in under 60 mins? I thought everyone spent 4 hours trying to dry jeans. What a miracle modern appliances are. I *heart* you my precious!