$319 Later
I have a new dryer. What a waste of good stash money but I'm sure my neighbors are happy to not look out their windows and see my laundry hanging from the swing frame. How hillbilly can I get? Desperate housewives resort to desperate measures. Looking hillbilly is a small price to pay for clean and dry clothes.
Houses of Hawk Run Hollow
After a slow start I managed to finish House #1 on Carriage House Samplings Houses of Hawk Run Hollow. I'm using DMC floss for my piece.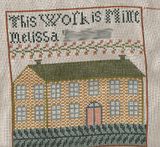 RR Finish
Here's a pic of a long overdue RR. It's from Prairie Schooler's Woodland Samplings leaflet. This particular leaflet went for major bucks on eBay not too long ago. This will be on it's way to England hopefully tomorrow.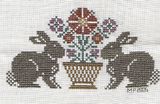 Harlot's BookBookBook
At my local BooksAMillion I managed to score a copy of the
Yarn Harlot
's book, At Knit's End: Meditations for Women Who Knit Too Much. The sticker on the back of the book I purchased said 2 of three. I never found 1 or 3 so some people scooped up their own copies before me.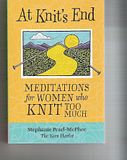 And Finally.....
My order from
NordicNeedle
arrived yesterday. I was able to use a coupon and purchase this book that I've been jonesing for for a very long time: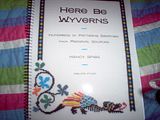 Every time I want a particular needlework book I find it's out of print. I was not going to let this happen with this book.
There are several on my list that I plan to order from
The Scarlet Letter - Samplers, Needlework, Reproduction Samplers, Historic Sam
but they are kind of out of my price range at the moment since having to fork over $319 for a new dryer.