Back to Our Regularly Scheduled Crafty Blog
Well it's been ages but I've been stitching lately. Here is my progress on my LNS fabric of the month/freebie chart club project: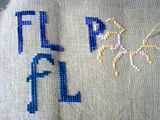 Even though I took the pic outside in natural sunlight, the sun was so bright it washed it out. This fabric is bright, extra bright lime green. The fabric is 30ct R&R JABCO Green. There are some adorable flip flop buttons that will be attached later but I'm afraid to take them out of their safe place as every time I touch them they disappear.
Now a while back I placed an order with Knit Picks and the following picture is of some future sock knitting goodness: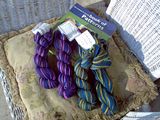 And finally, from the LYS I scooped up the book Socks, Socks, Socks, some Trekking, some size 4 Clover dpn: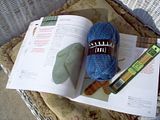 More future sock knitting goodness. I plan to use the Trekking in color #104 to knit the Retro Anklets.
Stitching Weekend
The countdown is on for my stitching weekend with my stitching friends in Grand Rapids. This weekend is going to rock! There will be a total of 12 of us from various cities across the country and I can't wait to see everyone again. Some good friends will be missing and that makes me sad. I'd love to give them all a hug, but hopefully there will be other retreats in the not so distant future. We don't have a lot of things planned, mostly just hanging out, stitching, talking, eating, spending money at the LNS. All very good things.
Unemployed? Who Me?
No, after weeks of wondering whether I'd have a job or not when I came back from my trip, looks like the owner is going to hold onto the restaurant for a while.
I'm torn. I hated to lose those extra dollars but at the same time I'm so sick of people. You know you've spent too much time in the customer service industry when one wants to just punch customers in the face because they find ordering lunch a strain on the old brain. Hello!! It's flippin' BBQ! It's a grouper sandwich! It's ordering lunch people, not brain surgery. Makes me crazy. I do adore 99% of our regular customers. It's the customers that want you to order for them that make me crazy. How am I supposed to know what you want to eat? I've never laid eyes on you before. Look at the menu, order the food. I don't know if you prefer baked beans, green beans, potato salad, cole slaw or pasta salad. You, dear customer, are supposed to tell me. OK?